Happy Birthday 'Queen Elizabeth'
Gun salutes were fired in London's Hyde Park to mark the Queen's birthday.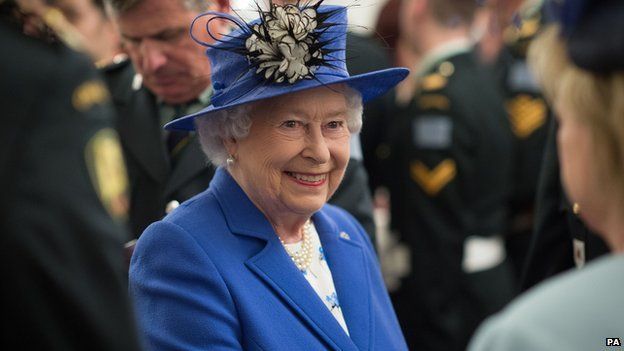 Mrs Downes led an assembly and asked us to think about celebrations and about how traditions form part of our lives.
Mrs Downes told us that the Queen's actual birthday is 21 April. Her official birthday is the second Saturday in June, which this year is 8th June. On that day we celebrate a tradition called Trooping the Colour.

In 1748 the celebration of the official birthday of the sovereign was merged with Trooping the Colour. This is a tradition going back to the days when the Colours (or flag of the regiment) was trooped, or carried past all the soldiers to make sure that everyone fighting would be able to recognise their flag in battle.
Mrs Downes asked us, 'How would we feel about having two birthdays every year?'
She explained that our Queen Elizabeth celebrates two birthdays every year. One is her actual birthday, the other is a public celebration of her reign. This tradition of a reigning monarch having two birthdays dates back to a time when it was decided that, because if monarchs were born in winter the weather may be unsuitable for celebration events to be held outdoors, the best time to celebrate a monarch's reign would be in the summer.
Dear God,
We thank you for our country.
We thank you that we belong here.
We thank you for all the traditions that we share.
We pray for our Queen Elizabeth.
We thank you for her love for this land and for how she has served our country so faithfully over many years.
Bless her as she celebrates her official birthday in June.
Amen.
How the Queens actual birthday was celebrated:
Gun salutes were fired in London's Hyde Park to mark the Queen's birthday.
The monarch celebrated the occasion privately at Windsor Castle where she has been staying for the past month.
In her honour, the King's Troop Royal Horse Artillery staged a 41-gun royal salute in full dress uniform.
The salute was followed by a selection of celebratory music from the Band of the Royal Artillery close to the firing position.
The King's Troop rode their horses and gun carriages past Buckingham Palace at midday en route to Hyde Park, where they staged their gun salute using six 13-pounder field guns dating from around the time of World War One.